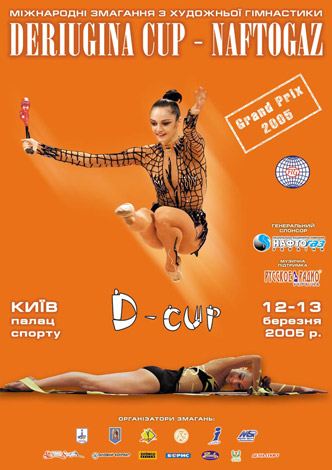 DERIUGINA CUP - NAFTOGAZ
GRAND PRIX 2005
| | | |
| --- | --- | --- |
| VERA SESINA (RUS) BALL | VALERIYA KURILSKAYA (BLR) BALL | SIMONA PEYCHEVA (BUL) BALL |
| IRINA KOVALCHUK (UKR) CLUBS | SIMONA PEYCHEVA (BUL) CLUBS | IRINA KIKKAS (EST) CLUBS |
| NATALIYA GODUNKO (UKR) CLUBS | ANNA GURBANOVA (AZE) CLUBS | VERA SESINA (RUS) CLUBS |
| NATALIYA GODUNKO (UKR) RIBBON | OLGA KAPRANOVA (RUS) CLUBS | ANNA BESSONOVA (UKR) CLUBS |
| IRINA KOVALCHUK (UKR) RIBBON | VALERIYA KURILSKAYA (BLR) CLUBS | SIMONA PEYCHEVA (BUL) RIBBON |
| JOANNA MITROSZ (POL) RIBBON | KATYA PISETSKY (ISR) RIBBON | VALERIYA KURILSKAYA (BLR) RIBBON |
| OLGA KAPRANOVA (RUS) RIBBON | ANNA BESSONOVA (UKR) RIBBON | VERA SESINA (RUS) RIBBON |
| IRINA KOVALCHUK (UKR) ROPE | SIMONA PEYCHEVA (BUL) ROPE | IRINA KIKKAS (EST) ROPE |
| NATALIYA GODUNKO (UKR) ROPE | ANNA GURBANOVA (AZE) ROPE | VERA SESINA (RUS) ROPE |
| ANNA BESSONOVA (UKR) ROPE | VALERIYA KURILSKAYA (BLR) ROPE | IRINA KOVALCHUK (UKR) BALL |
| ANNA GURBANOVA (AZE) BALL | KATYA PISETSKY (ISR) BALL | ANNA BESSONOVA (UKR) BALL NEW! |
| NATALIYA GODUNKO (UKR) BALL NEW! | OLGA KAPRANOVA (RUS) BALL NEW! | |
NOTICE: 4 VIDEOS OF THE AA AND MANY OF THE FINALS, INCLUDING ALMOST ALL CLUBS ROUTINES, WERE FILMED BY TOMEK FROM POLAND. THANKS TO HIM FOR HIS HELP.
ANNA BESSONOVA (UKR) GALA EXHIBITION

KATYA PISETSKY (ISR) GALA EXHIBITION

OLGA KAPRANOVA & VERA SESINA (RUS) GALA EXHIBITION

ANNA BESSONOVA, NATASHA GODUNKO & NADEJDA VASINA (UKR) "SHUT UP" GALA

ACROBATS (UKR) GALA EXHIBITION

NEW!
Last updated March, 20th 2005:
guillermo at rsgvideos.com
DISCLAIMER: All Videos are COPYRIGHT of GUILLERMO D.N.C. and might neither be used or reproduced unless you ask for permission. If you think any of my videos infract any copyright or are offensive in anyway, plesase let me know and I will remove them at once.