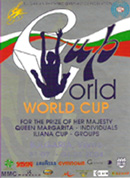 WORLD CUP VARNA
2004
SARAH STOCK (CAN) HOOP TRAINING

YANA TZIKARIDZE (CAN) CLUBS TRAINING

TOMEK (POL) IS THE HERO FOR ESP GROUP!!!


BULGARIAN GROUP 5 RIBBONS TRAINING

ELIZABETH PAISIEVA HOOP TRAINING

SIMONA PEYCHEVA RIBBON TRAINING

JENNIFER COLINO RIBBON TRAINING

SPANISH GROUP 5 RIBBONS TRAINING

SPANISH GROUP 3 HOOPS 2 BALLS TRAINING

SCENES OF THE SPANISH GROUP

NEW!
BULGARIAN NAVY BAND PLAYING "ONE MOMENT IN TIME"

NEW!
Last updated December, 8th 2004:
DISCLAIMER: All Videos are COPYRIGHT of GUILLERMO D.N.C. and might neither be used or reproduced unless you ask for permission. If you think any of my videos infract any copyright or are offensive in anyway, plesase let me know and I will remove them at once.