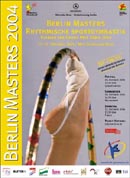 BERLIN GYMMASTERS
MERCEDES BENZ CUP 2004
NETHERLANDS GROUP 3 HOOPS 2 BALLS

NEW!
NETHERLANDS GROUP 5 RIBBONS TRAINING

NETHERLANDS GROUP 3 HOOPS 2 BALLS TRAINING

NETHERLANDS GROUP FUNNY SCENES

Last updated February, 10th 2007
guillermo @ rsgvideos.com
DISCLAIMER: All Videos are COPYRIGHT of GUILLERMO D.N.C. and might neither be used or reproduced unless you ask for permission. If you think any of my videos infract any copyright or are offensive in anyway, please let me know and I will remove them at once.